It all started with a bullet hole ...
My favourite ex-sister-in-law once described me this way – "You're not a drama queen, but you're definitely a drama magnet!" And she was right. For some reason weird stuff keeps happening to me and around me.
Maybe the universe is just constantly supplying me with new material for the stories I write?
Given some of the weird things that I've either been involved in or have been close to, it's not surprising that I decided to write mysteries.
I spent years sleeping over a bullet hole. It was in the floor under my bed, in what I considered to be the most peaceful place in the world – our cottage. The bullet hole was the by-product of a kidnapping gone wrong.
The niece of one of Canada's wealthiest men was kidnapped and her kidnappers (one of whom was a Toronto police officer) held her in our cottage. They let her go after her uncle paid the $200,000 ransom. The kidnappers were caught and the ransom money was found underneath our wheelbarrow. The only photo I have of that infamous wheelbarrow is below. (It's on the left side of the photo, at the front of the wreckage.)
Yeah, that peaceful place burned to the ground. (But not because of the kidnapping.)
And if the kidnapping, bullet hole and fire weren't weird enough … the original cottage on that piece of land burned down in the early 1900's, then our cottage burned down in the early 1980's, then the cottage we built to replace it burned down in the early 2000's. The cottage that now sits on that land is what Lee would call a McMansion – it's gorgeous, but huge. (And I hope the new owners have really good fire insurance.)
The replacement cottage that we built in the 1980's had an earlier opportunity to burn down in 1995, too. We were in the cottage when it took a direct lightening hit. Light bulbs exploded, a thermostat was blown off a wall and we found it on the other side of the room, the telephone wires were melted, a fax machine was charred and when I couldn't get the pump primed once the power was restored the next day I discovered that ...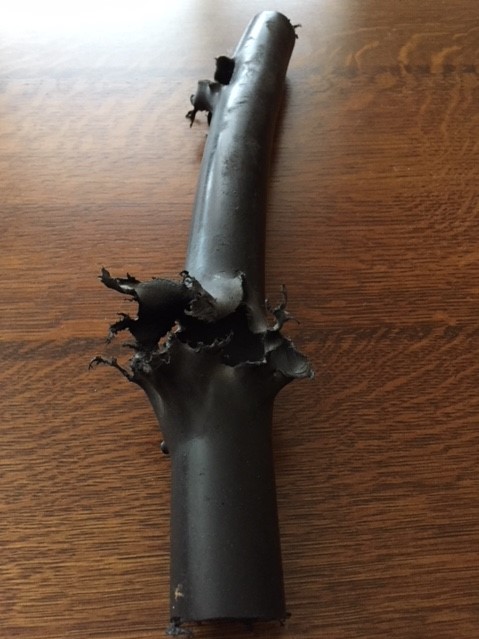 ... the waterline to the pump had taken a direct hit, too.
Obviously, I'm not the only person who has had weird stuff happen to them. And my weird stuff is tame compared to what the family of the kidnapped girl has had to deal with. Her rich uncle drowned in his own pool. His son was an exceptional and generous charity volunteer and conservationist (who probably did more to protect Canada's wilderness than any other human being on the planet). Years after the kidnapping, he and my father coincidentally served on the same committee at a charitable organization and they became friends. Too much weird stuff happened to him. He was one of only 18 people to survive a plane crash in Cincinnati, then he survived being beaten by a still unknown assailant who was armed with a baseball bat, but he didn't survive when he was shot a few years later. His nephew has since been convicted of first degree murder.
As far as I know, no one has attempted to kill me. On the other hand, Mother Nature and multiple mechanical devices have repeatedly tried to take me out. So far, I've been able to live to tell those tales ... and I'll tell them in future posts.